Special Caravan mirrors
For camping car use: A fitting developed specifically for your vehicle, made of cast aluminium to absorb vibration provides the perfect precise fit with virtually no vibration. Mirror size: 180 x 110 mm, convex wide angle: radius 2000 mm.
Attractive design, safe and reliable
Very clear, vibration-free mirror image
Aerodynamic mirror head with large field of view
Can be assembled in seconds with no tools using wing bolt
Can be adjusted from driver's seat and passenger seat
Foam rubber layer on fitting protects against damage and scratches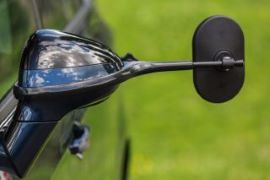 TIP: on customer request we manufacture all special mirror holder in the color of your vehicle. All parts are out of corrosion-resistant materials. The bracket consists of powder-coated aluminium.
You can order the special mirrors in the color of your vehicle at your special dealer our just by our order-sheet: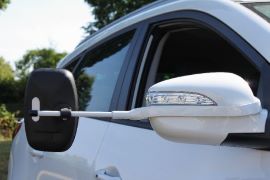 EMUK provides special mirrors for more than 190 different vehicle types.

ECE-type-tested
(EMUK - patent is registered)
Variants:
Special mirror with XL mirror head:
Mirror size: 200 x 140 mm, Convex wide-angle: radius 450 mm.
Advantages:
very large visibility and wide angle
lateral fitting of the brackets, therefore 5 cm more outreach
reflector in series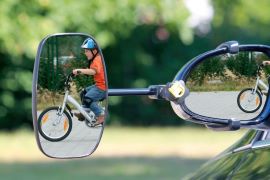 TIP: Optional upgrading of the product with anti-theft-system possible. Unfixing of the star-shaped handle only possible with a safety key.
Typenliste zum download